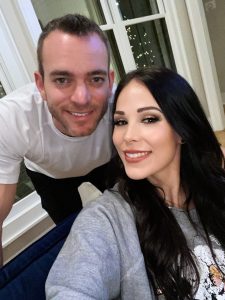 Alexa Stone, Co-Owner of M Theory Yoga, was born in Seattle, Washington. Originally being from the Northwest Yoga was a central part of Alexa's life. Alexa moved to Mississippi in 2010 and was shocked to see that Yoga had not been readily available in the state she now called home. In 2012 Alexa became a Yoga Alliance Certified Instructor and set her sights on opening her own studio to service the entire community. Over the last few years she has built friendships in the yoga community and found the encouragement and support of fellow Instructors in the area to open her own Studio. In 2015 she opened her first studio, M Theory Yoga in Ridgeland, Mississippi. M Theory Yoga is a place where you can come and enjoy your practice and environment. Being from Seattle where there is a lot of competition from many yoga studios Alexa has seen first hand how a "great" a yoga studio should look and feel. When creating the M Theory experience she wanted to encompass all the things needed to make your Yoga practice fun, relaxing and mentally positive. Anthony Morrison, Co-Owner of M Theory Yoga was introduced to Yoga by his wife Alexa 10 years ago. Having been an entrepreneur for over 15 years he was excited to help Alexa's vision for M Theory Yoga come to reality in our small town of Ridgeland, Ms. so together they launch the M Theory studio to serve Mississippi.
M Theory offers a very modern and clean design in every room. If you're pushed for time we even offer a spa like experience in our shower and locker room. Our showers are all custom built and feature natural rock floors and a serene experience. We also offer lockers with keys for your personal items while you enjoy your practice. Our apparel room let's you shop at discounted prices on some of the best brands in the world such as Alo, Spiritual Gangster, Manduka and Lululemon.
THE M THEORY NAME – Many people ask us "How did you get your name?" and it's quite an interesting story. The "M Theory" was really brought to the forefront in an HBO series called "True Detective" where Matthew McConaughey gives one of his best performances explaining what M Theory is. M Theory is a Physics theory that was created in recent years by a theoretical Physicist, Edward Witten that found a commonality in all the concepts of the universe that exist. He was able to combine all 5 string theories and prove that everything is made of strings that vibrate or are made of energy in other words. He unified all the concepts of the universe. In short it means "all encompassing" which we thought was appropriate for our studio. We'd like to welcome everyone of all ages and backgrounds to experience first hand what Yoga can do for them both physically and mentally. Our goal is to help everyone see what Yoga can do to improve their lives.
Our Mission

M Theory Yoga strives to be a game changer in the Yoga community in Mississippi. With a growing awareness of Yoga and it's benefits both body and mind, our studio is here to offer a safe and fun environment for each student. We encourage each student to explore the many ways yoga can be of service to them through practicing here at our studio. Our goal is to spread the benefits of Yoga to as many people as possible and continue growing and shaping the community in healthy ways, both mind and body.